In 2008 the Scotch Plains Public Library and the Fanwood Memorial Library, together with our partners, created Libraries and Autism: We're Connected. This award winning project produced a customer service training video and website primarily for library staff to help them serve individuals with autism and their families more effectively. The video focuses on what you need to know about autism and will empower you with specific techniques to offer more inclusive service to this growing and underserved population.

The resources here on the website, along with the on-site training workshops which have been presented to hundreds of librarians around the country, expand on our customer service video to address the real world implementation of best practices and universal service for people with ASD and their families and helps staff to improve their ability to provide excellent, inclusive, universal customer service to everyone who uses the library.

Every library we visit tells us the same story of increasing numbers of families dealing with ASD who are turning to their public library for resources, programs and a community center where they are welcome. We stress communication, customer service, using individuals on the spectrum and with other developmental disabilities as staff and volunteers in the library, programming strategies that work, connecting with local experts, and the importance of empowering staff to be willing to 'do something'.

To receive a free "Libraries and Autism: We're Connected" Decal or DVD for your library, contact us at MegandDan@librariesandautism.org. We encourage you to explore this site and make free use of our support resources.
Please contact us anytime with questions, inquiries, comments or progamming suggestions, and take the time to let us know if the video and any of these materials have been of use to you via email

PROJECT NEWS:

Starting in the spring of 2013, Libraries and Autism will be participating in Project PALS (Panhandle Autism Library Services). Under the leadership of Dr. Nancy Everhart, Professor and Director of PALM Center, the project involves a partnership between the Autism Institute (College of Medicine) and the PALM Center (School of Library and Information Studies) at Florida State University focused on developing and improving information services to rural library patrons on the autism spectrum. The partners will work with the FSU Center for Autism and Related Disabilities, the Panhandle Library Access Network, the Fanwood and Scotch Plains (NJ) Public Libraries' "Libraries and Autism: We're Connected" project, Syracuse University's Project ENABLE, and others on the development, implementation, and evaluation of four interactive, multimedia, online professional development modules for libraries and will determine the impact on patrons with autism in public, academic, and school libraries. Three students will be supported to work on the project and at least 170 librarians will participate in the development and testing of the modules, which will be freely available to the general public.
Stay tuned for further developments!
PLA 2012 in PHILLY!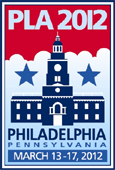 Meg and Dan were proud to be part of an important pre-conference session at the 2012 Public Library Association Conference in the City of Brotherly Love. The session, Special Needs, Talented Children: Outreach Services to Families with Special Needs, was presented by the Pennsylvania Library Association and, besides Libraries and Autism, it included Joyce Sands, Associate Director of the Lancaster (PA) Public Library speaking eloquently about the library's fantastic and effective Autism Resource Center initiative. Anita Ditz, Youth Services Librarian at the Schlow Centre Region (PA) Library spoke of their amazing success as a Family Place Library. The Family Place Libraries initiative has been instrumental in shaping the library's service model and has enabled it to truly become a vital, inclusive community destination for all families.Tricia Twarogowski, Consultant, Sterling, PA, described her groundbreaking work with Special Needs Programing that began at the Public Library of Charlotte & Mecklenburg County (NC) and which she continues to refine at her current post at the Cuyahoga County (OH) Public Library. All of the handouts from the session can be found at the PLA website.
KUDOS to EVERYONE Involved!

Libraries and Autism collaborated with the Bureau of Early Intervention at the New York State Department of Health and the NY State Library on March 28, 2012 to present a webinar to librarians across the state. Download the Webinar Powerpoint presentation slides HERE. In 2011 we assisted that NY State agency in reaching out to libraries with information on autism and customer service. A package of materials, including a poster, brochures, customer service tip-sheet, an early signs card, and a bookmark promoting NY State's new online autism resource nyActs: An Initiative for Adults and Children on the Autism Spectrum was delivered to over 300 libraries around NY.
BACK from ALA 2011 in NOLA!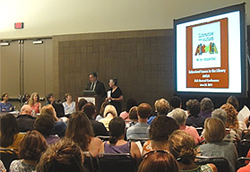 Three years ago when we started this project we searched the web hard for reference to Libraries and autism and came up dry, so it was heartening to see such attention being given to library service to indivuals on the ASD spectrum at the recent ALA conferece in New Orleans. Meg and Dan presented at two sessions and shared panels with some wonderful colleagues. Behavioral Issues in the Library was sponsored by ASCLA and included presentations by Marla Ehlers and Sophia Brewer from Grand Rapids (MI) PL, Karen Strauss from San Francisco (CA) Public, Chris Bradley from Norwalk PL (CT). Carrie Banks, Supervising Librarian of The Child's Place for Children with Special Needs for the the Brooklyn (NY) PL helped to organize the session which was moderated by Paula Holmes, a Trustee of the Upper St. Clair (PA) PL - Here's a link to nice PLA blog entry by Stephanie Hill on our overcrowded morning session.
The afternoon session, Serving Teens with Special Needs, was sponsored by YASLA and organized by the effective and energetic Michele Gorman, teen services coordinator at Charlotte Meckenburg (NC) PL. Vikki C. Terrile, coordinator of young adult services at the Queens (NY) PL also did a great job. School Library Journal was on-hand and provided this coverage.
New Orleans is such an amazing and inspirational city! Besides a great conference, some good networking and a brief but productive time on the exhibits floor, we also had a fantastic time seeing the sights, drinking in the history and walking and eating... and eating and eating. If the opportunity presents itself, don't miss a chance to see this incredible, historic treasure.
Need some recommendations? Try Mulates for some great traditional fare and Cajun music, don't miss a Po-boy at Johnny's on St. Louis St., breakfast at Stanley's, and for something more elegant, let Chef Susan Spicer (yep, it is a great name for a chef) spoil you at Bayona - great ambiance, drinks, food & service - can't wait to go back!

Meg Kolaya and Dan Weiss, recognized for their groundbreaking work with library service to the autism community, have recently formed Library Connections, a consulting firm that brings a 'real-world' approach emphasizing simple, 'customer-first' solutions for the myriad of issues facing libraries today. Whether it's customer-service or any of the full-range of traditional library consulting topics, they embrace a straight forward, common sense attitude informed by their vision of libraries and librarianship developed from their collective 50+ years of professional experience.

The project was spotlighted in the online Lyrasis Newsletter Member Spotlight "Lyrasis Member Library Has National Impact on Library Autism Services". Lyrasis (created in 2009 by the merger of PALINET and SOLINET) is a regional membership organization for libraries and information professionals that provides access to more of the shared knowledge and expertise, innovative products and services, and customized solutions they need.

Libraries and Autism: We're Connected is the winner of the
ALA's 2009 ASCLA/KLAS/NOD Award!
This national award, co-sponsored by ASCLA (Association of Specialized and Cooperative Library Agencies), the Keystone Library Automation System and the National Organization on Disability, is presented annually to a library organization chosen for its exemplary service to people with disabilities. It recognizes an innovative and well-organized project which successfully developed or expanded services for people with disabilities.
From the Award Notification Letter:
"The Committee was deeply impressed by your project and congratulates you on the production of this valuable resource. Your initiative provides a project model from conception to completion encompassing: State Library vision and funding; able project leadership; the expertise of the filmmakers; close involvement of autism professionals and families; and aggressive, skillful promotion."
Kathleen B. Hegarty Chair, ASCLA Awards Committee
We are proud to add our project to the list of past recipients.

The Libraries and Autism Project was featured in the December 2008 edition of School Library Journal and in their Oct. Online Edition

A grateful thank you to PR Newswire and MultiVU who helped us spread the word to thousands of local and national media outlets & 3,600 Web sites and video broadcasters. The multimedia press release is HERE

On April 28, 2008 we were the 'Site of the Day' on About.com's Parenting Special Needs channel thanks to Terri Mauro

The History of Autism by the Numbers Check out this brief, graphic overview of autism. Thanks to Jess at wallstats.com for the inspiration.
For information on how to schedule a in-depth training workshop for your own library or group, please contact us at MegandDan@librariesandautism.org

UPCOMING
PRESENTATIONS & WORKSHOPS


Thurs., April 25, 2013
Say YES to Great Customer Service Presentation for LARC (Library Association of Rockland County) NY Crowne Plaza, Rockland, NY
Wed., June 5, 2013
LA County Library - at the Norwalk Library, 12350 Imperial Highway, Norwalk, CA - 2 Workshops
Wed., June 12, 2013
Afternoon Workshop for the Southern Maryland Regional Library Association, Charlotte Hall, MD
Thurs., June. 13, 2013
Morning Workshop for the Southern Maryland Regional Library Association, Charlotte Hall, MD

RECENT TRAINING
WORKSHOPS

Wed., January 30, 2013
Superintendent's Conference Day presentation to school librarians.
Nanuet Public Library, Rockland County, NY
Wed., October 24, 2012
Nassau Library System, Uniondale, NY - 2 Workshops
Wed., October 3, 2012
Brooklyn Public Library, Brooklyn, NY - 1 morning Workshop
Thurs., June 14, 2012
Southern Maryland Regional Library Association, Charlotte Hall, MD - 2 Workshops
Wed., June 13, 2012
Southern Maryland Regional Library Association, Charlotte Hall, MD - 1 afternoon Workshop
Wed., May 15, 2012
Nassau Library System, Uniondale, NY - 2 Workshops
Wed., March 28, 2012
Webinar for NY State Libraries via the NY State Dept. of Health, Bureau of Early Intervention 10:00 am
Wed., March 14, 2012
PLA 2012, Philadelphia, PA
Preconference #7:
Special Needs, Talented Children: Outreach Services to Families with Special Needs. 8:30 am - 12:00 pm
Wed., Feb. 15, 2012
Serving the Underserved: Spring 2012 Colloquium for the Rutgers MLIS program, SCILS, Rutgers University, New Brunswick, NJ 7:30 pm
Fri., Feb. 10, 2012
Allen County Public Library, Fort Wayne, IN
Tues., Jan. 31, 2012
2 Workshops for the Southern Maryland Regional Library Association, Charlotte Hall, MD
Thurs., Sept. 22, 2011
Workshop for AZ State Library
Apache Junction Public Library,
Apache Junction, AZ
Fri., Sept. 23, 2011
Workshop for AZ State Library
Wheeler Taft Abbett Sr. Library,
Tucson, AZ
Wed., August 3, 2011
Webinar for NJ State Library
& LibraryLinkNJ
Sat., June 25, 2011
ALA 2011 Annual Conference
New Orleans, LA
Behavioral Issues in the Library
8:30 - 10:00 am for ASCLA
Serving Teens with Special Needs
1:30 - 3:30 for YASLA
Fri., March 25, 2011
for MELSA - An Alliance of
Public Libraries - St. Paul, MN
Wed., Oct. 20, 2010
Lancaster Public Library, Lancaster, PA - 1 session (morning)
Tues., Oct. 19, 2010
Lancaster Public Library, Lancaster, PA - 2 sessions (aft. & eve.)
Thurs., Oct. 7, 2010
Autism NJ's Annual Conference
Atlantic City, NJ
Wed., Sept. 15, 2010
Montgomery County-Norristown Public Library, Norristown, PA
May 11-14, 2010
Ontario Library Service - North 2010 Conference
Sudbury, Ontario, Canada
Wed., May 26, 2010
Upper Hudson Library System, Albany, NY
Thurs., March 4, 2010
Highlands Regional Library Coop.
Montville Public Library, NJ
Thurs., January 28, 2010
Northeastern Massachusetts Regional Library System.
Reading Public Library, Reading, MA
Fri., January 29, 2010
Central Massachusetts Regional Library System.
Bellingham Public Library, MA
Tues., November 24, 2009
North Arlington, Lyndhurst and Rutherford (NJ) Public Libraries
Hackensack Meadowlands Environment Center, Lyndhurst, NJ
Mon., September 14, 2009
William Jeanes Memorial Library,
Lafayette Hill, PA
Thurs., May 7, 2009
Newport News Central Library,
Newport News, VA
Wed., May 6, 2009
Montgomery-Floyd Regional Library,
Christiansburg Public Library,
Christiansburg, VA
Tues., May 5, 2009
Waynesboro Public Library,
Waynesboro, VA
Mon., May 4, 2009
Henrico County Public Library,
Tuckahoe Area Library,
Richmond, VA
Tues., April 21, 2009
Middlesex Union School Librarians, NJ
Tues., March 31, 2009
Exton, PA